The Rochester Parks & Recreation Board have decided to take action on the ability for kids to get outside and play as much as possible! Their new project consists of a "mobile" Playground! How cool is that?! At SRG we know how valuable durable and portable rinks/gaga pits are when it comes to fun and games, but we can only do so much as to supply the portable fun! Now with Rochester Parks & Rec bringing this playground to life, they are literally giving kids, people and communities the chance to connect throughout the local neighborhoods and have a fun time outside in the sun!
The Idea behind the playground is to truly bring together communities and build bridges and relationships throughout the neighborhoods local to the twin cities, and what better idea than to bring the fun to you! Sometimes it can be very difficult for people to commute their children to and from the nearest park but this brings the fun right to your doorstep and gives children a way to get outside, exercise and make new friends! They plan to visit parks that get little to no attention throughout the year, now people will have good reason to make use of these parks!
According to the article Post Bulletin Games Trailer Brings New Life to Parks "Public health education manager Kari Etrheim said the goal is to get more youths active by taking advantage of local parks and making social connections."
"Longfellow Elementary School students were asked what they think should be part of the mobile playground. Here's what they had to say:
'Gaga ball, because I have great striking power and I am real competitive and play competitive games,' said fourth-grader Joshua Kyei-Baffour."
The kids and adults seem to love Gaga and it truly shows when camps and schools all across the US are ordering Gaga Pit after Gaga Pit! We are extremely excited to see the popularity of this mobile games trailer for the next few years to come!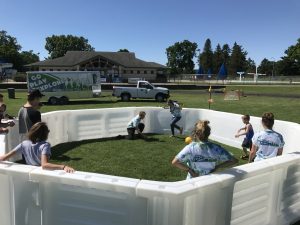 Here is a link to the Mobile Playground schedule! Go! Play! Explore! Mobile Trailer Recreation